When you're troubleshooting or diving into logs, it's useful to have a mapping of object types. The name of an object is defined by the developer of that object, so there tends to be little convention - other some basic syntax rules and that Qlik Sense only allows one instance of the name per site.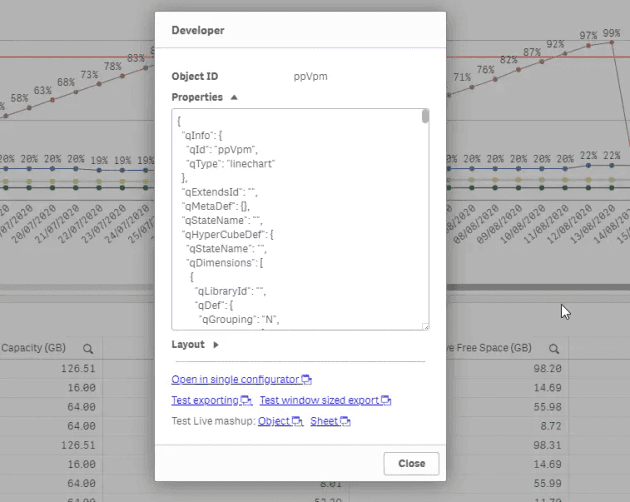 Each object definition references the object type (qType)
Knowing what each type means is useful when inventorying a site for upgrade or migration.
Here's a list put together at the time of writing. The latest version of the list is available on GitHub, and includes descriptions for each object.
| | | |
| --- | --- | --- |
| Object Type | Object Name (UI) | Object Origin |
| qlik-date-picker | Date picker | Qlik Dashboard Bundle |
| qlik-share-button | Share button | Qlik Dashboard Bundle |
| qlik-variable-input | Variable input | Qlik Dashboard Bundle |
| idevioanimator | GeoAnalytics Animator | Qlik GeoAnalytics |
| idevioarealayer | GeoAnalytics Area Layer | Qlik GeoAnalytics |
| ideviobubblelayer | GeoAnalytics Bubble Layer | Qlik GeoAnalytics |
| ideviochartlayer | GeoAnalytics Chart Layer | Qlik GeoAnalytics |
| ideviogeodatalayer | GeoAnalytics Geodata Layer | Qlik GeoAnalytics |
| idevioheatmaplayer | GeoAnalytics Heatmap Layer | Qlik GeoAnalytics |
| ideviolinelayer | GeoAnalytics Line Layer | Qlik GeoAnalytics |
| ideviomap | GeoAnalytics Map | Qlik GeoAnalytics |
| auto-chart | Auto Chart | Qlik Native |
| barchart | Bar chart | Qlik Native |
| boxplot | Box Plot | Qlik Native |
| bulletchart | Bullet chart | Qlik Native |
| action-button | Button | Qlik Native |
| combochart | Combo chart | Qlik Native |
| container | Container | Qlik Native |
| distributionplot | Distribution plot | Qlik Native |
| filterpane | Filter pane | Qlik Native |
| gauge | Gauge | Qlik Native |
| histogram | Histogram | Qlik Native |
| kpi | KPI | Qlik Native |
| linechart | Line chart | Qlik Native |
| map | Map | Qlik Native |
| mekkochart | Mekko chart | Qlik Native |
| piechart | Pie chart | Qlik Native |
| pivot-table | Pivot table | Qlik Native |
| scatterplot | Scatter plot | Qlik Native |
| table | Table | Qlik Native |
| text-image | Text & Image | Qlik Native |
| treemap | Treemap | Qlik Native |
| waterfallchart | Waterfall chart | Qlik Native |
| qlik-barplus-chart | Bar & area chart | Qlik Visualization Bundle |
| qlik-bullet-chart | Bullet chart | Qlik Visualization Bundle |
| qlik-funnel-chart-ext | Funnel chart | Qlik Visualization Bundle |
| qlik-heatmap-chart | Heatmap chart | Qlik Visualization Bundle |
| qlik-multi-kpi | Multi KPI | Qlik Visualization Bundle |
| qlik-network-chart | Network chart | Qlik Visualization Bundle |
| sn-org-chart | Org chart | Qlik Visualization Bundle |
| qlik-smart-pivot | P&L pivot | Qlik Visualization Bundle |
| qlik-radar-chart | Radar chart | Qlik Visualization Bundle |
| qlik-sankey-chart-ext | Sankey chart | Qlik Visualization Bundle |
| qlik-trellis-container | Trellis container | Qlik Visualization Bundle |
| qlik-variance-waterfall | Variance Waterfall | Qlik Visualization Bundle |
| qlik-word-cloud | Word cloud chart | Qlik Visualization Bundle |
| backgroundimg | Background Image | Unknown |
| variable | Variable | Unknown |
| qsSimpleKPI | Simple KPI | Unknown |
| qlik-venn | qlik-venn | Unknown |
| cl-finance-report | Vizlib Finance Report | Vizlib |
| VizlibActivityGauge | Vizlib Activity Gauge | Vizlib |
| VizlibAdvancedTextObject | Vizlib Advanced Text Object | Vizlib |
| VizlibBarChart | Vizlib Bar Chart | Vizlib |
| VizlibCalendar | Vizlib Calendar | Vizlib |
| cl-kpi | Vizlib Simple KPI | Vizlib |
| cl-horizontalselectionbar | Vizlib Selection Bar | Vizlib |
| cl-cards | Vizlib Cards | Vizlib |
| VizlibContainer | Vizlib Container | Vizlib |
| VizlibFilter | Vizlib Filter | Vizlib |
| VizlibHeatmap | Vizlib Heatmap | Vizlib |
| VizlibKPI | Vizlib KPI Designer | Vizlib |
| VizlibLineChart | Vizlib Line Chart | Vizlib |
| VizlibPieChart | Vizlib Pie Chart | Vizlib |
| VizlibPivotTable | Vizlib Pivot Table | Vizlib |
| VizlibSankeyChart | Vizlib Sankey Chart | Vizlib |
| vizlibstorytimeline | Vizlib Story Timeline | Vizlib |
| VizlibTable | Vizlib Table | Vizlib |
| VizlibVennDiagram | Vizlib Venn Diagram | Vizlib |
| VizlibGantt | Vizlib Gantt | Vizlib |