Alternative Dimensions and Measures have been in Qlik Sense since version 2.2 (see a video on Qlik's site describing how to use them) - but there isn't yet an easy way to sort them (as of version 3.2.2).

This bar chart object has multiple alternative dimensions and measures (note the arrows next the the axis titles)
When configuring charts with alternative dims and measures you'll find you can only configure the sort order for the currently active dimensions and measures - nothing else will be visible or configurable.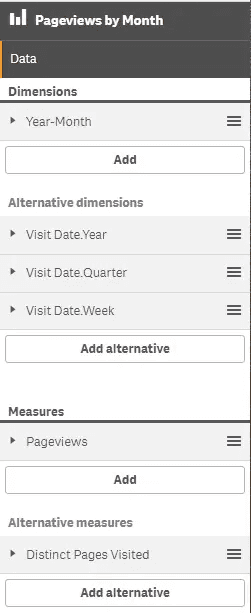 There are a few alternative dimensions/measures defined for this object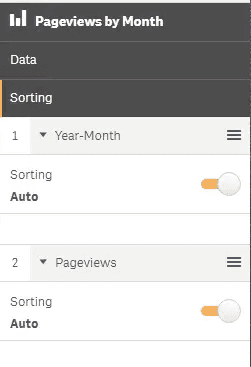 Yet, only active dimensions and measures are configurable in the sort panel - no alternatives are visible
At the moment, you can either let your end users sort it themselves via the "Exploration menu" or switch through them yourself in the edit view.
In this chart, the default sort when switching to [Date.Year] is descending - as such 2017 appears before 2016, etc (newest to oldest). This is contrary to how Year-Month is shown, which is in ascending order (oldest to newest), and needs to be updated to match.

The default [Date.Year] sort order is Descending (newest to oldest) - this needs to be reversed to match [Month-Year]
As mentioned, this means we must go into edit mode, switch round the active and alternative items on the Data pane, and then make the required changes on the Sorting pane.

After switching items around in the data panel, we can make the required changes in the sort pane
Once done, change the Data pane back to the it's original order - any changes you have made on a specific dimension or measure (alternative or otherwise) will have been saved in the background, and users accessing the chart will benefit from your new sort order for those alternative items.

When users select the [Date.Year] alternative dimension, they now see it sorted ascending by default (old to new)
Hopefully this functionality will be streamlined in a later release.